There are two ways to take boat trips: on a schooner with other people or by renting a boat just for you (speedboat, whaling boat, sailboat or outboard motor boat). We recommend: We prefer to rent whalers or speedboats taking your own picnic, as the schooners are leaving very full and noisy.
Suggested itinerary at sea: start the tour with a stop at Praia Vermelha (there is a bar with simple food) and / or at Praia da Lula (no kiosk, but very beautiful), go to Lagoa Azul in Saco da Velha (in Saco da Velha there are lunch options in the restaurant of "Hiltinho", more refined and with beautiful view, or in the restaurant / bar "Paixão do Vivinho", where there is a beach).
Values ​​and indications of boats: you can choose without any problem the boat that most pleases you by going directly on the pier or on the Pereque-Açu river. A whaling boat costs an average of R $ 100.00 to R $ 120.00 per hour and a speedboat between R $ 200.00 and R $ 500.00 per hour (depending on the size). In high season, the ideal is to book at least two days in advance. In low season you can book on the same day (to be sure of good weather).
Below are some indications of good boatmen:
– Jessica boat: large and comfortable boat (Jordano 24 99999-9680 www.barcojessica.com.br)
– Boat Manati: comfortable whaling (Pablo 24 99951-1242)
– Latitude boat: comfortable whaling (André 24 99999-9858)
– Palombeta: company that has speedboats of various sizes and well trained sailors: (24) 99975-7859 (www.palombeta.com)
– Tequila and Gin Tonic: large, fast and comfortable boats for up to 8 people (Fabiano 24 99219-2640)
– Ocean kayak tour accompanied by a guide (Michael 24 99952-4496)
Puppet theater for adults, in a nice camera theater, inside the historic center. Presentations every fourth Saturday and holidays. Address: Rua D. Geralda, 327, Centro Histórico. Telephone: (24) 3371-1161, website: www.ecparaty.org.br
We recommend: those of Pedra Branca and Poço dos Ingleses, as they have easy access and, on the way it is still possible to visit the Alambique da Pedra Branca e Paratiana or, still, the Bananal Farm.
The road to Poço dos Ingleses is all paved, which makes it more visited than the Pedra Branca waterfall. The latter is located two kilometers after the Poço dos Ingleses, following the same path, but part of it is not paved and, therefore, it is not recommended to do it on days after heavy rain. All points mentioned here can be found on Goolge Maps.
Road paved with stones, where gold came from Minas Gerais. This trail starts in the Penha neighborhood, next to the Tobogã waterfall (Paraty-Cunha highway). The route can be done alone and involves going up and down the same path. Approximate walking time: from one to three hours (depending on how much you want to climb).
How to get there: from the interchange of the Rio-Santos highway located at the entrance to Paraty, follow the road Paraty-Cunha for 7.8 km. The Tobogã waterfall and the beginning of the Caminho do Ouro are next to the Church of Penha , where there is a parking place.
Beaches with access by car
Prainha (da Praia Grande)
Small beach with a single kiosk. Located five minutes walk from the fishing village of Praia Grande, separated from it by a peninsula.
How to get there: from the interchange of the Rio-Santos highway located at the entrance to Paraty, take the BR 101 (Rio / Santos) towards Rio de Janeiro for ten kilometers to the community of Praia Grande. Enter Praia Grande, park your car and walk to Prainha (five minutes walk)
Extensive beach (2,650 meters) of calm and uncrowded sea. You can stop the car at various points on the beach. In the northernmost corner, where the São Gonçalo river flows, there are two bars and that is where small boats leave for the island of Pelados – just in front – where in addition to great beaches there are kiosks.
How to get there: from the interchange of the Rio-Santos highway located at the entrance to Paraty, take the BR 101 (Rio / Santos) towards Rio de Janeiro for approximately 30 kilometers (access by km 545 from the BR-101).
Extensive beach (760 meters) with always calm sea and cut approximately in half by the Paraty-Mirim river. There are two or three simple kiosks on the beach. Paraty-Mirim is the name of the beach and the existing community nearby. During the colonial period, the site was a slave landing port. Some memories of that time are the small and beautiful Church of Nossa Senhora da Conceição, built in 1746, and ruins of several other mansions. The dirt road to access the beach of Paraty-Mirim cuts through an indigenous reserve and passes through some natural pools.
We recommend: the beach side after the river is more beautiful and more deserted. There are options for motorized boat trips to Saco do Mamanguá from Paraty-Mirim beach.
How to get there: from the interchange of the Rio-Santos highway located at the entrance to Paraty, take the BR 101 (Rio / Santos) towards São Paulo for 9.6 kilometers. Take the left onto the dirt road (km 593 of the Rio-Santos highway). Paraty-Mirim is distant 17.2 km from Paraty with 9.6 km of asphalt (Rio-Santos) plus 7.6 km by land.
Located in Ubatuba, approximately ten / fifteen kilometers after the Paraty / Ubatuba border. It is an extensive beach, with fine and hard sand, located within an environmental reserve, without a kiosk and little frequented (even on holidays) despite its beauty. Pets are not allowed. On the left, at the end of the beach, the waters of a beautiful river meet the sea, forming a mangrove.
How to get there: from the interchange of the Rio-Santos highway located at the entrance to Paraty, take the BR 101 (Rio / Santos) towards São Paulo for approximately 35 kilometers (km 11 of the BR-101). Located just after the village of Picinguaba
Small caiçara village located 25 kilometers from Paraty with six of the most beautiful beaches in the region, with open sea and clear waters.
We recommend: At the end of the last beach (Praia do Cachadaço), there is a natural pool surrounded by rocks – the Piscina do Cachadaço – where you can walk, walking along a path through the vegetation, or boats leaving Praia do Meio. In Trindade you can enjoy kiosks with meals and handicrafts. Surfing is possible at Cepilho beach.
(Access by car + one hour trail)
Beautiful white sand beach, extensive, almost wild, with several almond trees and some small rustic restaurants in fishermen's houses. The excursion is very worthwhile, both on the beautiful beach and on the trail of approximately one hour (cars do not reach the beach). Access is from Laranjeiras, a private luxury condominium, close to Trindade.
How to get there: You can go by trail or boat, both starting at Vila do Oratório (next to the Laranjeiras condominium). The trail is signposted and, once there, there is no mistaking it. Inquire at the condominium's concierge about boaters' telephones that take you by sea instead of making the trail. If you don't want to go back down the trail, on the same Praia do Sono, there is an option to go back in boats.
Bananal Farm: the former Murycana Farm has been restored and adapted for the exhibition of plants and animals created in a sustainable way. For parents, there is an excellent restaurant whose ingredients are produced on site. Website: www.fazendabananal.com.br
Cinema da Praça: modern cinema in an old colonial mansion in the historic center. Besides being beautiful it is free! See program on Facebook (page "Cinema da Praça Paraty")
Flora Paraty: creating bromeliads and selling ornamental plants in a beautiful space. Located on BR 101, next to the entrance to Paraty. Website: www.bromelias.com.br
Casa da Cultura: located in the historic center, it has a friendly café and works exhibitions, as well as several cultural activities. Closed on Mondays.
Perpetual Defender Fort: historic fort with museum, cannons and a beautiful view. You can bathe on a small beach accessible by the fort. 20 minute walk from the historic center. Closed on Mondays.
Kayak or Stand Up Tours: on the beaches of Pontal and Jabaquara you can rent Stand Up boards and kayaks
Whether for the excellence of cachaça (among the ten best in Brazil according to the annual ranking of Playboy magazine) or for the beautiful still located on a site by the sea, this is a good tour for connoisseurs or curious about the subject. It has a capacity / production of up to 15,000 liters / year. Open for visitation and purchase of cachaça directly from the producer (it is recommended to schedule the visit 24 9999-9908). Locate through Google Map.
Book at least half a day to visit the sights in the historic center. The city is especially beautiful in the late afternoon and at nightfall.
Stroll through the Ateliers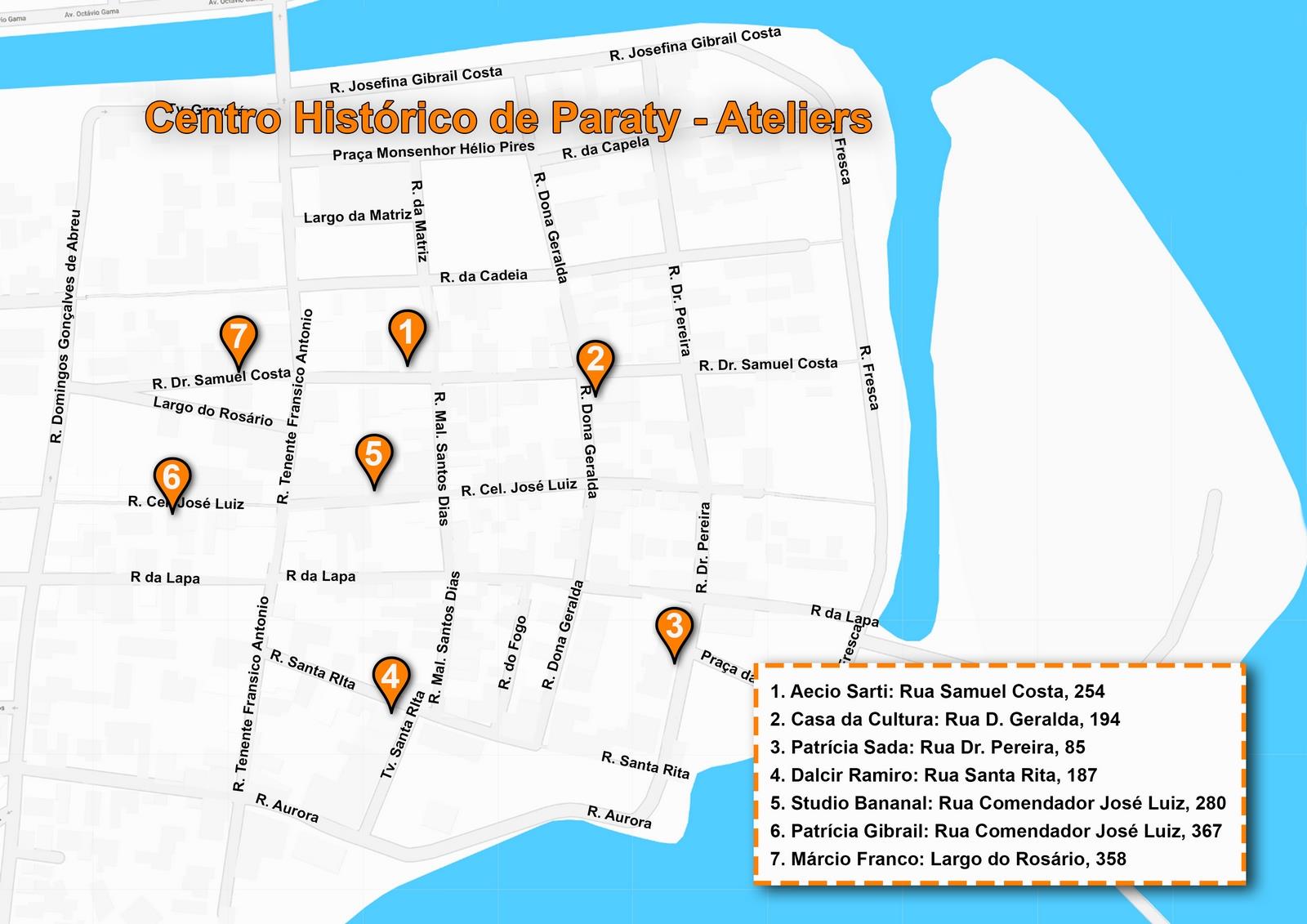 Due to the tranquility of living in Paraty and the favorable scenery – both natural and architectural – there are many artists in the city. On the map above is a selection (personal) where you can get to know, appreciate and buy (if you wish) real works of art. This is a program that can be done at any time, but very good on rainy days, when other tours are not viable.
Differentiated restaurants in the Historic Center
Atlantic Forest Restaurants
Also enjoy the day of leaving!
Be sure to enjoy the day of leaving, but before the tips, some precautions:
– Do not leave dirty dishes in the kitchen, as the cleaning lady does not usually come on the same day and this may attract insects and leave the house with a bad smell;
– Collect all garbage in bags and close them tightly;
– after packing, take a last walk around the house to see if you haven't forgotten anything (especially charger cables);
On the way back home, you can enjoy amazing beaches, waterfalls and restaurants, with your bags in your car to continue your journey.
Those returning to São Paulo have two options: the road that passes through Cunha or the Rio Santos highway towards Ubatuba (and then enters Rod. Oswaldo Cruz towards Taubaté):
– On the road to Cunha you can plan to have lunch at the Fazenda Bananal restaurant in Paraty, where in addition to the excellent food there are tours around the farm and waterfalls very close by, or, have lunch at a restaurant in Cunha and visit the Lavandário or Contemplário;
– on the Rio Santos Highway, between Paraty and Ubatuba, are some of the most beautiful beaches in Brazil. Still in Paraty, you can go to the beaches of Trindade and have lunch there. You can also stop at the following beaches in Ubatuba – all less than three kilometers from the Rio / Santos highway: Camburi (the entrance is in front of Cachoeira da Escada, on the Rio Santos bank and easy access to a freshwater bath), Estaleiro, Promirim, Praia do Felix and Itamambuca.
Those heading towards Rio de Janeiro, can have lunch at the São Francisco restaurant in Praia Grande (10 km from Paraty) or take a bath in the sea at São Gonçalo beach.
MASSAGES
Kiome: 99919-0093 (serves at the client's home)
DELIVERY
Pizzaria Mama Mia: 3371-4284
Japanese Food (Kami Sama): 3371-6111
Marmitaria (apenas almoço): 98108-1046
Empanadas: 99962-1376
Pizzaria La Dolce Vita (the best in Paraty): 24 98881-5595
Pizzaria Manjerona: 24 99946-3141
Japanese Food (Chiquinho): 24 99844-1670
Japanese Food (Seikô): 24 98864-7566
EMERGENCIES
Santa Casa / UPA (Pronto-Socorro): 3371-1623 (free)
Samu (ambulance service): 192 (free)
Police: 190
Firefighters: 193 / 3371-1193
Civil Defense: 199
Ampla/Enel (energy): 0800-704-0120
Águas de Paraty (Water supply): 0800-023-1541 or 3371-1151
NOTE: for emergency medical care, such as accidents or severe pain, Santa Casa de Paraty (close to the historic center) has provided a great service and is free of charge (the only negative point is that it can sometimes take a while to be attended, depending on the movement in the arrival time)